Poconos PA Homes MLS Map Search  
Poconos PA Homes - Poconos PA homes for sale. Search over 3200 Real Estate Listings and Poconos PA Area Homes in MLS. Photos and Videos of Listings.
Poconos PA Real Estate
The Poconos Mountains, simply referred to as the Poconos by most locals, is a region in beautiful northeastern Pennsylvania. There is much to do here, with plenty of great opportunities for outdoor recreation. Beautiful homes in the Poconos area can be found at very affordable prices, allowing all types of families to enjoy everything this wonderful area has to offer.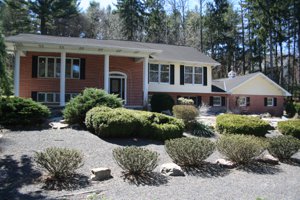 Real estate in the Poconos is varied, but consists mainly of single-family homes. The region is a wonderful place to escape from the hustle and bustle of a city life, with quiet communities and cozy homes. Much of the area provides much more affordable housing options, allowing families on all budgets to experience some of the best in Pennsylvania living.  
The area has long been a popular recreational destination for both tourists and local visitors. There is an abundance of opportunities for excellent outdoor recreation here, with something for all ages and interests.
There are great trails in the area for hiking and biking. Lakes and rivers are perfect for boating, swimming, and a whole range of water sports. The area's diverse wildlife allows for everything from bird watching to hunting and fishing. 
With such beautiful surroundings, much of the Poconos is dedicated to the protection of natural scenery and wildlife. The Poconos region covers the Delaware State Forest, which includes six designated natural areas, seven state parks, and seventeen state game lands. 
Skiing is a popular Poconos activity in the winter months. The region is home several popular ski resorts. Visitors come from around the state to enjoy the great ski hills here in the Poconos.  In the winter, the Poconos region also offers opportunities for ice skating, sledding, snow tubing, and more. 
Shopping in Poconos will not disappoint. There is a wonderful range of local shops, boutiques, and art galleries to enjoy. Outlet malls and shopping centers offer everything from Coach to Nike, with plenty of national chain stores and luxury brands to choose from. Stores like Kmart, Weis Markets, and Walmart are also in the area, making it easy to always have life's essentials on hand. 
Poconos can also be a wonderful destination for arts and culture. The region is home to a number of theaters and cultural sites where visitors can enjoy exhibitions, live performances, and more.
Dining in the Poconos offers something for every taste. Local, family-friendly restaurants offer great food in fun environments. Scenic lakeside or mountainside dining provides spectacular views alongside great, fresh food. There are a range of popular chains and fast food restaurants in the area. 
Poconos PA Homes - Poconos PA Homes For Sale
Of course, living in the Poconos area also provides you with an incredibly convenient location. All the excitement of New York City is just a few hours' drive away, perfect for a weekend day trip or business commute. The quiet life of Poconos has so many benefits, but when you need a day away, excitement is easy to find.